This tag was created by Tania at My Lovely Secret. All images belong to Insomniac Games and Toys For Bob.
I saw this tag (created by Tania @ My Lovely Secret) over on Kristin Kraves Books and I HAD to join in! Spyro is one of my favorite games from growing up and I am secretly hoping that the new remastered version comes out for the Switch soon!
A Song of Ice and Fire by George R.R. Martin
Although I HATED the ending of the tv show, this is still an amazing story and I hope the last book does this series true justice (unlike that nonsense we just experienced).
There were so many great things about this book, I did not want it to end. I am so excited for Children of Virtue and Vengeance to come out this December! This book left me wanting more in the best possible way.
Pride and Prejudice by Jane Austen
I loooooove this cover redesign. I find hand lettering so beautiful and this design fits so well with Pride & Prejudice.
Saphira | Eragon by Christopher Paolini
Saphira is my all-time favorite book dragon. I fell in love with her through The Inheritance Cycle and I'm still waiting for someone to bring this book to tv and do it justice (we won't talk about the previous sorry attempt to do so).
Narnia | The Chronicles of Narnia by C. S. Lewis
Wonderland | Alice in Wonderland by Lewis Carroll
I love The Chronicles of Narnia so much! These books truly transported me to another world and I can't wait for the tv series!
A Prince on Paper by Alyssa Cole
I was so shocked by how much I loved this book! I devoured it during a rainy day and it gave me all the feels!
Dolores Umbridge | Harry Potter by J.K. Rowling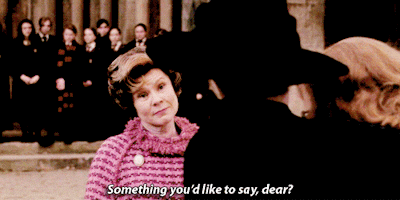 Dolores Umbridge is the sole reason that if I ever see Imelda Staunton in another role, I will instantly hate her character. I think I actually prefer Voldemort than Umbridge!
Harry Potter by J.K. Rowling
I mean, duh. Is there any other answer here?
Starr | The Hate U Give by Angie Thomas
Starr represented every black girl that has to live through hard experiences as a POC in America. The fears she faced are harrowing to those that are not used to it, but reflective for those of us that live through this every day.
Children of Virtue and Vengeance by Tomi Adeyemi
Children of Blood and Bone was my favorite read of 2018 and I am sooooooooo excited for CVV to come out this December (just in time for my birthday!). It's literally Black Girl Magic. 'Nuff said.
What are your thoughts on this tag and my picks? Share below!